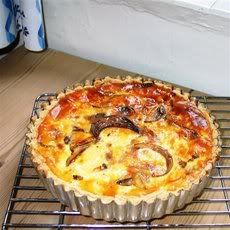 Ingredients
For the pastry:
110g self-raising flour
50g butter
A pinch of salt
25g grated parmesan cheese
For the filling:
225g onions,sliced
1 teaspoon butter
1 teaspoon oil
110g Swiss cheese, grated
225ml single cream
2 large eggs
salt and freshly milled black pepper
Pre-heat the oven to 180C. You will also need a 19cm flan tin, greased. To make up the pastry: sift the flour and salt into a mixing bowl, sprinkle in the parmesan then rub the butter in until the mixture becomes crumbly. Then add enough cold water to make a dough that leaves the bowl clean. Place the dough in a polythene bag and leave it to rest in the fridge for half an hour or so.In the meantime, melt the butter and oil in a frying-pan, add the sliced onion and cook over a highish heat, stirring now and then, for about 15 minutes until the slices have softened and charred round the edges. Then roll out the pastry to line the flan tin, prick the base with a fork and bake in the centre of the oven for 15 minutes. Beat up the eggs (for the filling) and use a little of it to brush the inside of the pastry case, then return it to the oven for a further five minutes. Now spread half the grated cheese over the base of the flan followed by the charred onions. Spread the rest of the cheese over, whisk the beaten egg with the cream and some seasoning and pour over the top. Return the tart to the oven and bake for 30-40 minutes, until the filling is puffed up and golden brown. Then remove it from the oven and allow it to settle for about 10 minutes before serving.
Enjoy .... lotsa luv blacklineuniverse